United Way - AMERICORPS PROGRAM 
In support of our mission for a thriving, healthy, and resilient community, the United Way coordinates the Douglas County Community AmeriCorps Program to support the direct service capacity of local nonprofit health and human service agencies. The United Way places AmeriCorps members at host-site nonprofit organizations throughout Douglas County, KS. Each member takes on a unique program or project that will help the organization better serve their clients and our community. Members work on projects to increase capacity for leadership, nonprofit operations, community engagement and outreach, and direct services. 
BE THE GREATER GOOD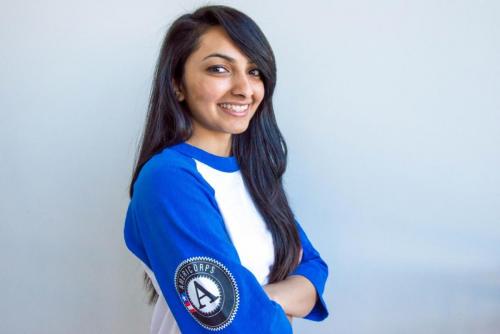 AmeriCorps members put their passion into action by serving full time at a local community nonprofit for 1 year. Members gain valuable nonprofit experience while leading exciting projects that build social connections to seniors, provide food, shelter and resources to low-income families, develop literacy skills for children, create volunteer and service opportunities for our community, and more! Make a difference doing something you love – join AmeriCorps!
AmeriCorps serve at a local community nonprofit full-time, from September 2023-August 2024 for up to a total of 1700 hours.
Watch this video to find out more about AmeriCorps!
---
BENEFITS
In exchange for one year of full-time service, AmeriCorps members are paid an annual stipend up to $19,125 for Full-Term (49 weeks) or $10,125 for Part-Time Term (49 weeks) and health insurance coverage for full-term members. Members also earn a Segal AmeriCorps Education Award (equal to the maximum Pell Grant for a full-time service term) that can be used to repay qualified student loans or pay for college or trade school. 
Members also gain valuable experience in program design and evaluation, nonprofit management, and social service delivery. Many local nonprofit leaders got their start as AmeriCorps members, including our very own Director of Development and Marketing. 
Interested but want to make sure serving with AmeriCorps doesn't negatively affect other benefit programs you are enrolled in? Check-out this resource.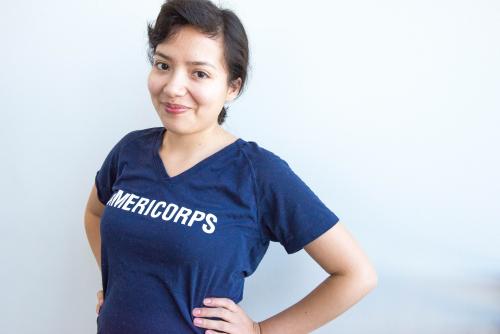 QUALIFICATIONS
Must be at least 17 years or older and able to pass a national service criminal history check

Members must hold one of the following citizenship statuses: US citizen, US National, Lawful Permanent "Aliens"

Some Sites Require COVID Vaccination
Our Ideal Member also…
Ability to operate standard office equipment and pertinent software applications required

Ability to develop and oversee projects required

Excellent oral and written communication skills required

Ability to prepare and maintain accurate records required

Is passionate about serving their community!

Is currently living in Douglas County

Has some college or job experience.

Has experience in nonprofits, community organizing, or related field




---
---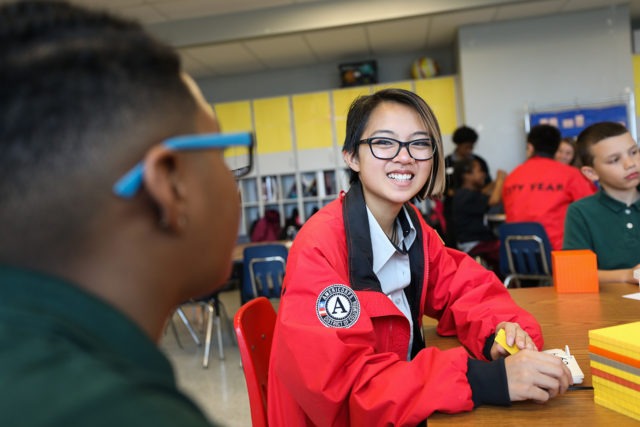 Member Applications are accepted until position(s) are filled. 
CLICK HERE to submit an interest form
or
email resume to ksmith@uwkawvalley.org
or 
---
2023-2024 Positions-  (Clicking links will open the agency website) *Returning site from 2021-23
*Elizabeth B Ballard Community Center (Ballard Center) - Full-Term (35-40 hours a week, 1700 Hours Total) Provide advocacy/direct services to pantry clients. Work with partners and employees to increase the utilization of the pantry. Work with organizations and individuals to increase volunteer work and pantry donations.
*Community Children's Center - 2 Members (25 hours a week, 900 hours total)
Clothing Closet Coordinator will develop a clothing closet for maternity and 0-5 year clothing, including procedures and implement the design.
*Heartland Health -2 Members (40 hours a week, 1700 hours total) Grow service hours for the Care Cupboard and connect patients to additional services including pharmacy and resource navigation.
*Lawrence-Douglas County Housing Authority 1 Full-Term (35-40 hours a week) Engaging Youth in the youth center, creating programs, or supporting current programs. Client assistance and referral. Support efforts of community groups related to housing and/or the needs of LDCHA clients. Pursue joint programming with varied agencies.
City of Lawrence - 1 Full-Term (35-40 hours a week)- Housing Liason  Develop Yes In My Backyard (YIMBY) program, implement the design, and measure progress for the following agency programs: o Group Volunteering o Skilled Volunteering o Pop-Up volunteer project (build off of the existing program, time permitting) o Community Resource Fair (in conjunction with Back-to-School Supply Drive) o Develop city digital resources including videos, print and online documents. 
Douglas County District Court- 1 Full-Term (35-40 hours a week)-Self-Help Assistant-Build relationships, coordination, and referral networks for community resources that are available for Self-Help Customers. This includes creating materials and systems, including soft handoffs when needed, for the effective operation of the self-help office. The AmeriCorps member will allow the Self-Help Office to expand its reach to Baldwin and Eudora by working with AmeriCorps members and volunteers located in those communities to educate the citizens about the office, to provide a satellite location on set dates/times for self-help, recruit volunteers, build a referral network, and coordinate the referral network throughout Douglas County. 
*United Way of Kaw - Student Community Action Corps - 1 Part-Time Member (10 hours a week, 450 Hours Total) Facilitate and support programming with the KU's Student United Way and the Youth Service Coalition. Student United Way serves and promotes our shared goals to the University audience.  The Student United Way works closely with the KU Center for Service Learning, which serves as the organization's advisory office. The Youth Service Coalition is middle school and high school students in Douglas County who come together to serve their community while learning about resources in the community.
*United Way of Kaw Valley- Volunteer Program Assistant 1 Part-Time Member (10 hours a week, 450 Hours Total) Assist in the development, implementation, and evaluation of group and skilled volunteer programs. Assist in COVID recovery through donation and volunteer management, Days of Service, and collaborating with community groups and partner agencies.
---
Past AmeriCorps Member Positions
Sexual Trauma & Abuse Care Center -Assist in outreach and community engagement in Douglas, Franklin, and Jefferson Counties. 
#BeMoreLikeClaire-Assist in the development, implementation, and evaluation of the volunteer program. Assist in COVID recovery through donation and volunteer management, collaborating with community groups and partner agencies. 
Bert Nash Mental Health Center   Provide outreach to clients that are un-engaged in service and assist in problem-solving barriers for continued engagement. Assist with the evolution of effective, efficient delivery of services and assure strong client satisfaction of program and services. 
Lawrence Community Shelter - Support LCS staff in volunteer engagement tasks and activities. Interface with volunteers seeking to help shelter in person, over the phone and via email. Plan and support volunteer engagement activities.
Lawrence Douglas County Public Health  -  Assist with vaccine distribution, COVID testing, community education on COVID and variants, and childhood immunization catch-up
Douglas County, Kansas  Client assistance and referral. Support efforts of community groups related to housing and/or the needs of clients. Pursue joint programming with varied agencies.
Ecumenical Campus Ministries-  Design and develop a volunteer recruitment campaign, and measure progress, for the ECM Veggie Lunch program.
Senior Resource Center for Douglas County, Inc. (SRC)
Positions for 2022-2023 can be found on My.AmeriCorps.Gov . To apply, email resume and cover letter including why you are interested in committing to a term of public service to Kathy Smith at ksmith@uwkawvalley.org. 
---
Reasonable Accommodation: United Way of Douglas County will provide reasonable accommodation to the known mental or physical disabilities of otherwise qualified members, service recipients, applicants, and program staff. All selections and project assignments will be made without regard to the need to provide reasonable accommodation.
Notice of Nondiscrimination: Participation in the AmeriCorps and its programs and projects will be based on merit and equal opportunity for all, without regard to factors such as race, color, national origin, sex, sexual orientation, religion, age, disability, political affiliation, marital or parental status, military service, or religious, community, or social affiliations.
---