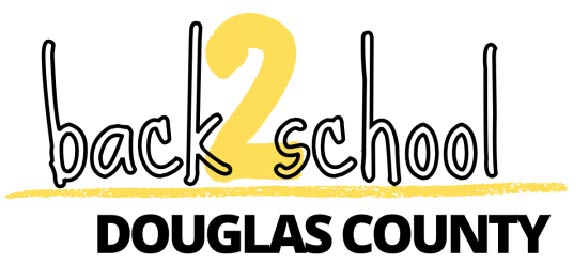 The Back 2 School Drive for Douglas County is a collaborative effort between local school districts, non-profits, and community volunteers to meet the school supply needs of students and teachers in our county. This includes public schools in Lawrence (USD497), Eudora (USD491), and Baldwin City (USD348).
2023 collaborators include: Baldwin City Schools, ECKAN, Eudora Schools Foundation, Lawrence Schools Foundation, USD497 Native American Student Services, Salvation Army, and United Way of Kaw Valley in Douglas County.
---
COLLECTION
Donations of money and supplies will be collected through business and community partnerships, tabling outside of retail stores, online wish lists, donation bins, and more! If you would like to help by volunteering, hosting a donation bin, or purchasing supplies please contact us!
Amarr Garage Doors

Baldwin Library

Central Bank 1

Central Bank 2

Central Bank 3

Central Bank 4

Central Bank 5

Dillon's on 23rd

Eccentricity Womens Clothing

Emprise Bank

Eudora Library

Farm Bureau Financial Services - Ron Reed Agency

First State Bank 1

First State Bank 2

​​​​​​​Hyvee

​​​​​​​KU Natural History Museum

Kurt Goeser State Farm Insurance

Lawrence Chamber of Commerce

Lawrence Public Library

Mainstreet Credit Union- 23rd Street

Mainstreet Credit Union- Iowa Street

​​​​​​​McGrew Real Estate

MidAmerican Credit Union

Morgan Hunter

Silver Lake Bank

Stephens Real Estate

Sunflower Bank / Guardian Mortgage

Toppers Pizza

Velocity Church
---
SUPPLIES NEEDED
Thank you for supporting the drive so far! The community has made this a wonderful success, and a limited amount of supplies are still needed.
The following items are still needed! New items only please. (List is subject to change)
Backpacks
2-Pocket Folders (Plastic Preferred)
Comp Notebooks (Wide Ruled)
Anti-Bacterial Wipes (Clorox Preferred)
Headphones (Youth Size) (over-the-ear)
Kid Scissors
Pencil Boxes (Plastic)
Markers (8 or 10 count classic colors)
Markers (Dry Erase, Black & Blue Preferred)
Tissues (Boxes)
Glue Sticks
Color Pencils (12-Packs)
Highlighters
Notebooks, College Ruled
Earbuds
---
VOLUNTEER
We welcome all ages to sign up. If you have ways you would like to volunteer that are not listed, we welcome all ideas! If you have a unique way you would like to contribute, email hdavis@uwkawvalley.org.
Distribution
No application is required to get supplies, families just need to contact their school to make sure they are on the list. Supplies will be pre-packed according to the school supply lists for the 2023-2024 school year and students will be able to pick out their own backpack to carry their supplies. Multiple distribution locations will be available.
All supplies will be given to families free of charge. 
---
DONATE MONEY
Monetary donations will be pooled at United Way of Kaw Valley and equitably distributed to Baldwin City, Eudora, and Lawrence Schools Foundations. Donations will be used to purchase supplies to fill in the gaps in our donations and ensure we give every student and teacher what they need to succeed.
We plan to use bulk purchasing options that will stretch donated dollars farther!
Check: Make checks out to United Way of Kaw Valley, write Back to School DGCO in the "Memo", and mail to:
United Way of Kaw Valley
1527 SW Fairlawn Rd
Topeka, KS 66604