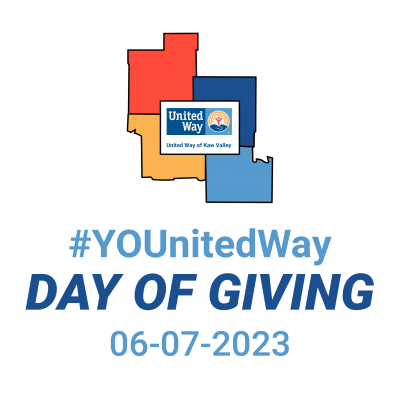 THANK YOU! WE RAISED OVER $30,000!
 It is YOUR day to fight for the education, financial stability and health of everyone in our community. Special donation categories are available for Shawnee, Douglas and Jackson counties. 
Interested in becoming a match donor or sponsor? Please reach out to Angel Romero at aromero@uwkawvalley.org.
SHAWNEE COUNTY EVENTS
Social Media Kick-Off: Join us at 7:45 am on our Facebook page as we come together with staff and volunteers from around our service area to kick-off the 2023 Day of Giving!

Partner Spotlight: Join us on our Facebook page at 1 pm as we highlight our partners at the Topeka Rescue Mission and the Mobile Access Partnership (MAP). Learn more about the collaboration that led to MAP and how the partnership is bringing services directly to those who need it most.

Volunteer Opportunity - Mercury Broadband and Mars Inc. will host volunteer events for their employees throughout the day. This will allow us to highlight our work in volunteer engagement, and remind donors of what their dollars support.
DOUGLAS COUNTY EVENTS
Radiothon with Great Plains Media - June 7-  6am-6pm CLICK HERE to learn more.
Cruisin' For A Cause - As part of their media sponsorships, the "Kiss-cruiser" from 105.9 will travel to different locations throughout Lawrence during the day to promote the Day of Giving and encourage people to give.

Food Drive at Checkers Foods - June 7 - 12:30-2PM (With the KU Football Team)

Downtown Barber Shop - June 7 - 3-4PM

Eldridge Hotel - June 7 - 5-6PM

Volunteer Opportunity - support Douglas County community community gardens.

Eudora Giving Garden - June 6 - 8:30am - 10:30am

Little Prairie Community Garden - June 10 - 10am - 2pm

Youth Service Coalition - Summer Kick-off - 6:30-8:30PM at Centennial Park - West Shelter (600 Rockledge Rd. Lawrence, KS).