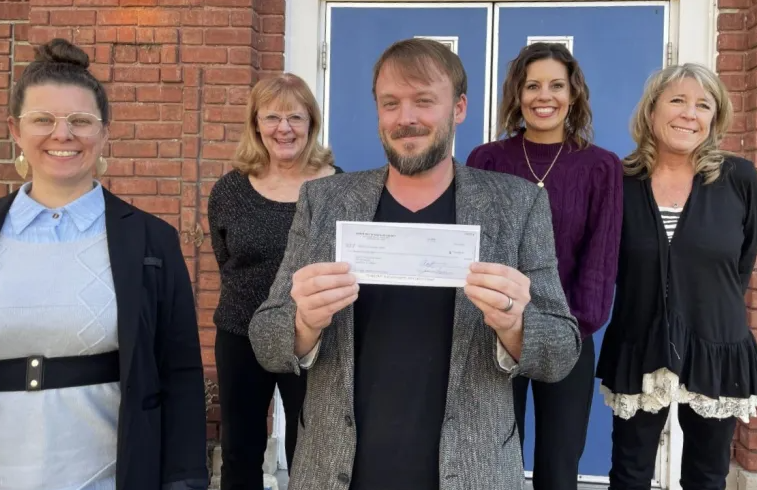 United Way Leader Surprises Lawrence's
Ballard Center with Extra $10K Grant
Donors and Board Honor Peggy Johnson's Service
to United Way of Douglas County with Bonus Grant
Dec. 2, 2022, Lawrence, Kan.— Christmas came early for the families served by the Ballard Center. United Way of Kaw Valley (UWKV)—the newly merged organization formed by United Way of Douglas County and United Way of Greater Topeka—surprised the Ballard staff Thursday with a $10,000 grant in honor of Peggy Johnson. Johnson is a long-time volunteer, donor, and most recently, interim CEO of United Way of Douglas County.
Johnson played a primary role in the past year's merger discussions and will continue to serve as a Douglas County representative on the UWKV board. One of the final acts of the United Way of Douglas County board was to authorize a special grant to honor Johnson's contribution during such a transitional moment for the organization. Funds for the grant were raised in Johnson's honor by local donors.
They left the choice of beneficiaries to Johnson, bowing to her extensive knowledge of and experience with the nonprofit sector in and around Lawrence.
The Ballard Center was an obvious choice for Johnson
The Ballard Center was an obvious choice for Johnson, she said: "With rising prices and inflation making life even more difficult for the vulnerable population, it made so much sense to award this extra grant for family stabilization efforts to the Ballard Center. The Ballard Center is a master at providing emergency resources to those with critical, immediate needs. The Ballard Center has been doing this work for many years and does it very well. This extra grant money was raised around the excitement of changes we have made with this merger."
"The merger provides Douglas County with a bigger think tank, shared best practices and streamlining of administrative services," Johnson said. "Our goal is to increase our support and resources to improve lives in so many different areas of need."
Becky Price, Ballard Center CEO, expressed gratitude for the unexpected grant, saying, "For decades Ballard has offered emergency services to those in our community facing a crisis. The recent inflation makes our services especially important, and we couldn't do this work without the support of community partners like United Way and leaders like Peggy Johnson."
"I've always felt blessed to have a front row seat witnessing the compassionate giving of our community," Price said. "A community where people are everyday heroes who look out for their neighbors as well as people they've never met. A community that puts the most vulnerable among us first. Peggy is one of Douglas County's strongest everyday heroes, and we are honored to receive this grant recognizing her commitment to our community. This gift will help Ballard ensure that children in our community get an education, do not go to bed hungry, have a warm winter coat, have heat in their homes and a roof over their heads."
Lehnherr spending time in Douglas County
Johnson and UWKV CEO Jessica Lehnherr scheduled the visit with Ballard representatives but kept the grant a secret until they arrived. Lehnherr is spending time working from the Lawrence office of UWKV, and the Ballard Center was just one of the stops she plans to make in the upcoming months.
"We have built a strong tradition of open communication with our grantees over the past five years," Lehnherr said. "It is really important to me to sit down with the local nonprofit CEOs and executive directors and hear what they do for the community and how United Way can be an even better partner for them."
About United Way of Kaw Valley
In September 2022, United Way of Douglas County merged with United Way of Greater Topeka to form United Way of Kaw Valley (UWKV). UWKV serves as a grant maker, community convenor, volunteer organizer and strategic partner for the nonprofit sector in Shawnee, Douglas, Jackson and Jefferson counties in northeast Kansas. Donor dollars are invested locally and support a broad range of initiatives that benefit the whole family in education, financial stability and health, as well as racial equity and family supports/basic needs.