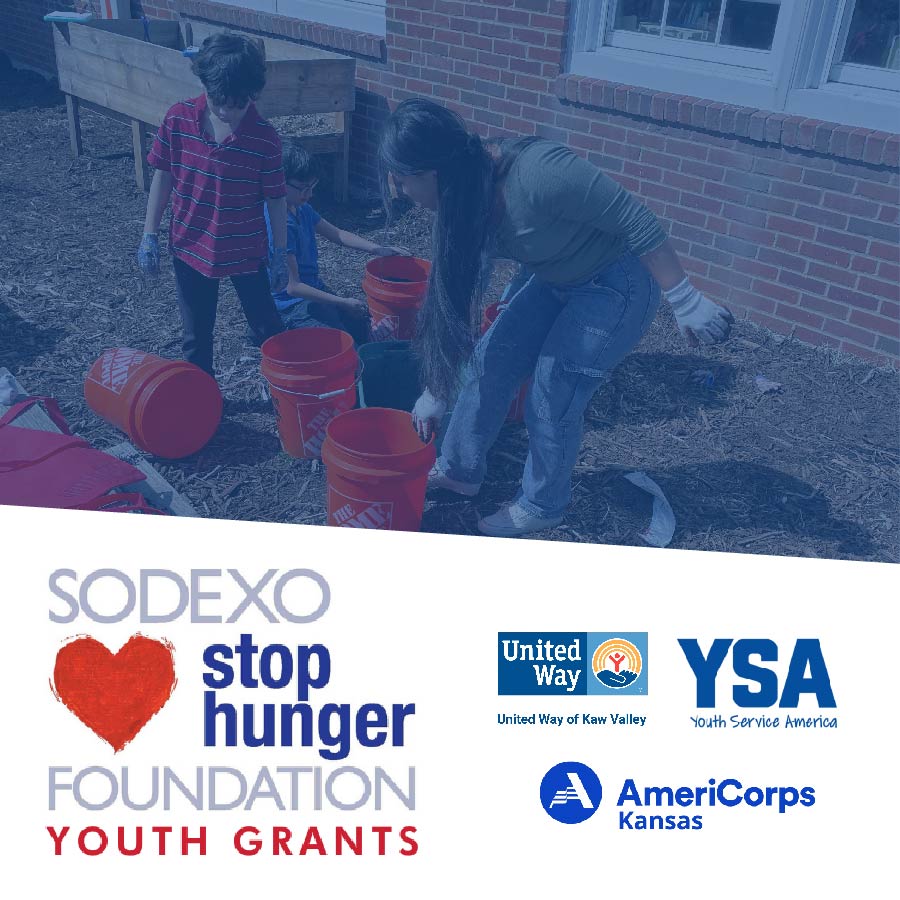 In celebration of Global Youth Service Day April 28 through April 30, 2023 and during Youth Service Month, April 14-May 14, 2023, local young people are taking action on food insecurity projects.
Hannah Davis, a KU Student and AmeriCorps Member serving the United Way of Kaw Valley in Lawrence, has been awarded a Sodexo Stop Hunger Foundation Youth Grant through Youth Service America (YSA). The grant will support Davis in leading a community service project that addresses the issue of childhood hunger.
The Boys & Girls Club at New York Elementary and the United Way Youth Service Coalition will be constructing seed kits based on the Three Sisters planting method and distributing the kits to different community agencies assisting with food insecurity. Additional topic discussion around food insecurity and home-grown vegetables as well as hands-on planting instructions has also been added to the programming this year. The goal is to create a long-term and well-rounded knowledge base for nutrition, gardening, and food resources among the youth.
Hannah Davis, who leads the Youth Service Coalition for United Way of Kaw Valley, is one of 100 young leaders across the country awarded grants to organize projects to help end childhood hunger. Grantees will educate and mobilize their peers around the issue to help end childhood hunger through awareness, service, advocacy, and philanthropic activities.
Hannah Davis states, "As someone who has relied on, and watched many of my peers rely on, free and reduced lunches, it's important to me to address the issue head-on and early on. Oftentimes, for some students, this is the only balanced, nutritious meal they will receive all day. It's important to raise awareness, especially among youth, because if they aren't specifically affected by food insecurity, chances are they at least know someone who is."
They join young leaders and volunteers around the world as part of Global Youth Service Day, April 28-30, 2023. Celebrating 35 years of youth changing the world, Global Youth Service Day (GYSD) is the largest youth service and civic action event in the world.
"The Sodexo Stop Hunger Foundation

is committed to identifying, investing in and scaling innovative, youth-designed and youth-led solutions to childhood hunger,

"

explained Joan Rector McGlockton, Chairperson, Sodexo Stop Hunger Foundation and Associate General Counsel, Corporate Affairs & Litigation. "I am humbled by the quality and volume of applications we receive each year," said Roxanne Moore, Executive Director, Sodexo Stop Hunger Foundation. "Helping and supporting these youth grantees - ordinary people that make themselves extraordinary - brings the Stop Hunger Foundation closer to its objective of working toward zero hunger in the U.S.  By investing in their efforts on GYSD, we hope to ignite the passion in other young people to join the fight against child hunger".