On Friday, April 28, the United Way of Kaw Valley announced the recipients of the 2023 Racial Equity Grant Awards. Funds are invested in grassroots or community nonprofit organizations in Douglas County, KS with projects focused on increasing equity and opportunities for local BIPOC communities.
2023 RACIAL  EQUITY PARTNERS:
ALIVE, Inc - Organizational capacity and program development for individuals with mental illness in DGCO.

Herman's Place- A free food community restaurant

Indigenous Community Center- Farm and Fellowship Program (provides mentorship & entrepreneurial opportunities by holding space for Natives to grow medicine, food and to practice traditional food preservation.)

Kindness is the Key LFK- Community projects including learning kits, Thanksgiving meals, basic needs, trade skills job fair and more.

Lawrence Kansas Juneteenth Organization - Celebration Event & Activities

Life Restoration Ministries - BIPOC Healing, Recovery and Restorative Wellness Program (series of mental health and wellness classes)

Indian United Methodist Church - Minority Business Expo (create networking opportunities, education and to showcase products and services of minority business owners in Douglas County.)

Sanctuary Alliance – Additional support of the Lived Experience Community Advisors (a partnership with the City & County- the advisors are a group of community members of color experiencing or with a history of homelessness, who will provide guidance to support the Housing and Homelessness Strategic Plan.
---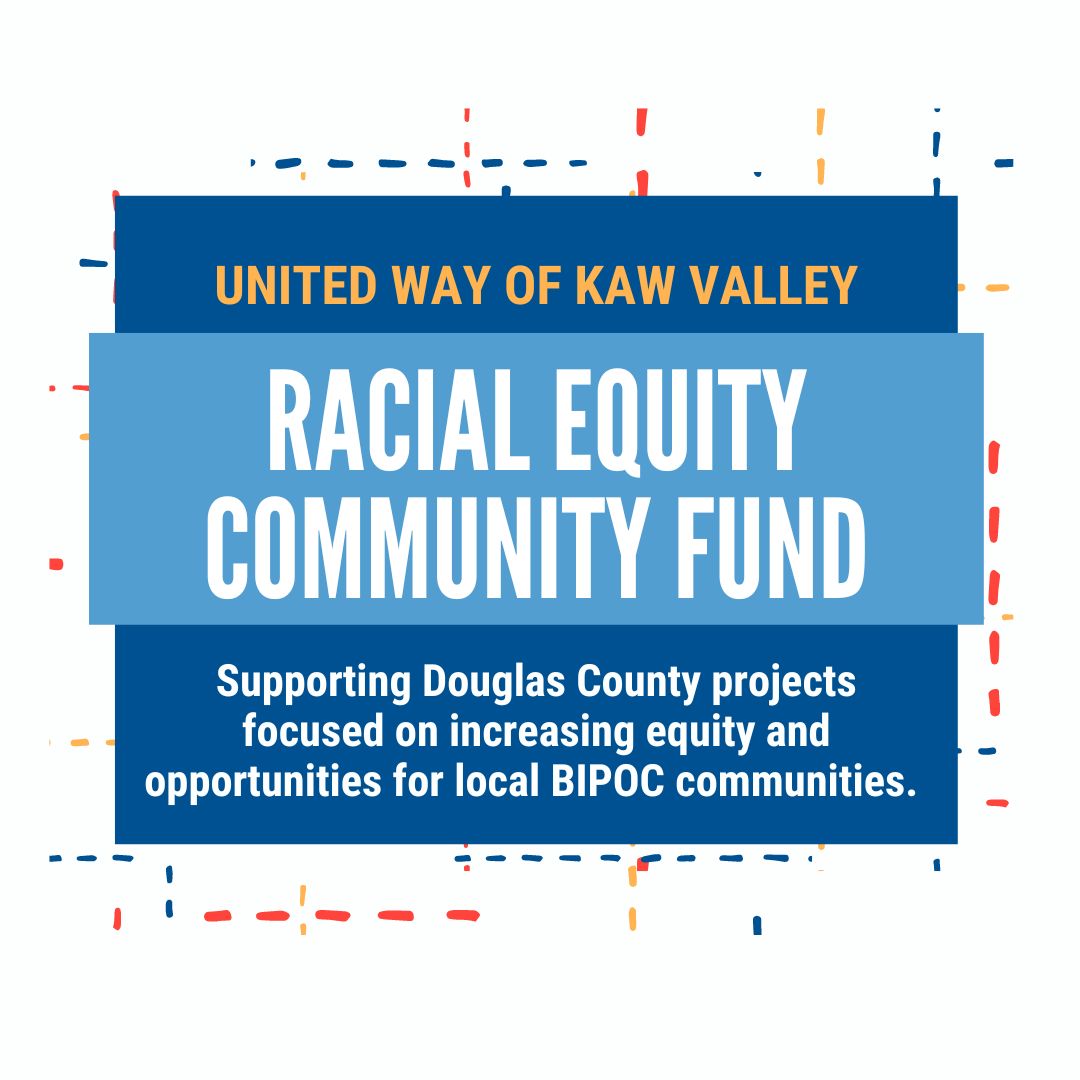 Applications are closed. Copies of the 2023 RFP can be download at the links below.
DOWNLOAD RFP APPLICATION - WORD DOC
 FOCUS AREA: RACIAL EQUITY 
INTRODUCTION
The United Way envisions a just, equitable and inclusive community for residents of all racial and ethnic backgrounds. The United Way of Kaw Valley acknowledges that the fight against poverty must be inclusive and anti-racist. The focus of this grant is to support projects that build community, leadership, and direct supports for all marginalized community groups.
ELIGIBILITY CRITERIA
Funds will be invested in grassroots and/or community nonprofit organizations in Douglas County, KS with projects focused on increasing equity and opportunities for local BIPOC communities. These grants provide support for organizations or individuals whose work benefits people with low incomes, communities of color, and historically and/or systematically marginalized people. Collaborative efforts and coalitions are eligible to apply.
Priority will be given to organizations who are:
led by Black, Indigenous, People of Color with organizational mission and goals focused on elevating and increasing equity for their communities.

leading efforts that include power-building with and for BIPOC communities.

taking a multi-generational approach that prioritizes youth and families.

aligning with United Way's mission of ending poverty, facilitated by equitable access to quality education, healthcare, jobs, housing, food, and community engagement.

embedding trauma-informed practices into their work by acknowledging the widespread impact of trauma.
Not eligible for funding:
Organizations with budgets over $500,000

Organizations with less than 25% BIPOC executive leaders and board members

Government programs

Other foundations or granting programs

Public, private, or charter schools

College or university programs

Businesses or business associations

Organizations outside of the Douglas County, KS service area
FUNDING
Grant awards will be $5,000.00 or less.
 
PRIORITY POPULATION
Priority population for these funds are Black, Indigenous, People of Color living in Douglas County, KS, with a minimum of 75% of people served identifying as Black/African American, Indigenous/Native, Asian Pacific Islander, Chican@/Latinx, Middle Eastern, and/or People of Color.
Priority will be given to projects that focus on the intersections of BIPOC identities, bringing those systemically pushed to the margins to the center of the project. These intersections may include:
Socioeconomic status

Sexual orientation

Gender identity

Age

Ability

Immigration status
The highest priority will be given to projects focused on the intersections of racism and poverty.
The following activities are not eligible for funding:
Direct service/safety net supports that are contingent on agreement to case management, education, continued program participation, or citizenship status.

Individuals may not apply for the grant for their own benefit

Research expenses

Capital or endowment campaigns.
ELIGIBLE ACTIVITIES
The eligible activity categories for funding are Direct Supports, Advocacy, and Community Building.
 

Direct Supports

Advocacy

Community Building

 

 

 

What it is

Activities that support and/or serve an individual, family, or group with a direct service need

Activities that aim to influence decisions within political, economic, and social institutions 

Activities directed toward the creation or enhancement of community, serving to develop community assets, social capital, and decrease isolation 

 

 

 

Examples of funded activities

(not an exclusive list)

Meal preparation and/or delivery

 

Early liberation literacy programs (book drives & tutoring that highlight BIPOC strengths and culture)

 

Basic needs supplies to individuals and families

 

Attorney and expungement fees

Education that will inform and activate residents on policy advocacy and community organizing

 

Racial equity and justice education to counteract the impact of white supremacy

 

Activities to "till the soil" for advocacy, including root cause and power analysis, and campaign development

 

Advocacy coalition building

 

Direct action

Mobilizing residents to take action on community-level change

 

Leadership programs that identify, develop, and mobilize new community leaders for racial justice

 

Activities that foster inclusive communities of belonging (e.g. public art, block parties and BBQs, neighborhood "walk-up" movie nights, community concerts featuring BIPOC artists)
---
 2022 RACIAL  EQUITY PARTNERS 
Ascending Stars Consulting (Ascending The Voices Of Douglas County's Original Stewards) -
Inspired by the need to uplift and center the voices of the Native American community throughout Douglas County, this project will help build an archive of digital stories to help educate the community on the history and contemporary experiences of its Native Americans citizens and keep the legacy of our interviewees and their experiences alive.
BIPOC – Yoga for Healing Retreat –
The BIPOC Yoga For Healing Retreat provides a safe space for healing, community, and inquiry, with a short weekend retreat. The project includes practices in healing modalities, food, discussion and community, yoga that aims to honor the indigenous roots, sound healing, Trauma/Tension Release Exercises (TRE), poetry, music, art and an opportunity to explore our liberation now.
Clare's Community Closet –
Clare's Community Closet addresses the unique needs of each individual through free clothing and supplies. Each person's needs differ based on their experience; Clare's Community Closet provides everything from school shoes to cell phones.
CommUNITY Steppers –
CommUNITY Steppers bring local youth together, ages 14-18, to build community, while embracing being "unique, unsilenced and unified", through step dance. The cultural significance encourages storytelling from the perspective of those often unheard, while also instilling pride, positively impacting social and emotional well-being as well as building intra-cultural relationships and promoting intercultural competence and awareness.
ECKAN –
To eliminate some of the stress and the anxiety of court fees and court ordered classes and in some cases attorney fees, ECKAN offers a voucher to cover the costs and works directly with community partners to ensure a smooth process.
Haus of McCoy –
The Haus of McCoy Community Night aims to reduce economic and food insecurity for queer and trans youth who are also BIPOC while promoting a sense of community and access to affirming and lifesaving spaces. This is accomplished through weekly community meals and a clothing closet.
Herman's Place –
Herman's Place will continue feeding hungry, homeless, elderly, and single parent households. The project's future goals include creating a center for supplies and teaching youth cooking skills.
Lawrence, KS Juneteenth Organization
A Juneteenth event will be held on June 18, 2022. The event will be a multi-cultural celebration with an emphasis on education, community, and family. It will include poetry readings, music by local artists, Underground Railroad tours, oral history recording, kids activities, and a concert by a nationally known performer.
Kindness Is The Key –
The Kindness Is The Key project will Increase their capacity to serve the community with the changing seasons and individualized needs through numerous signature projects (Dress For Success, READ Lawrence, BIPOC Book Drive, 5K Fundraiser Run, San-Dee Claus services and more).
Sisters With A Purpose –
The Sisters With A Purpose advocate for those who have been affected by institutional racism and systemic inequalities. They will provide scholarship funds or other support to facilitate the happiness and opportunity that is lost due to the injustice experienced at the hands of our local justice system during the re-entry process.