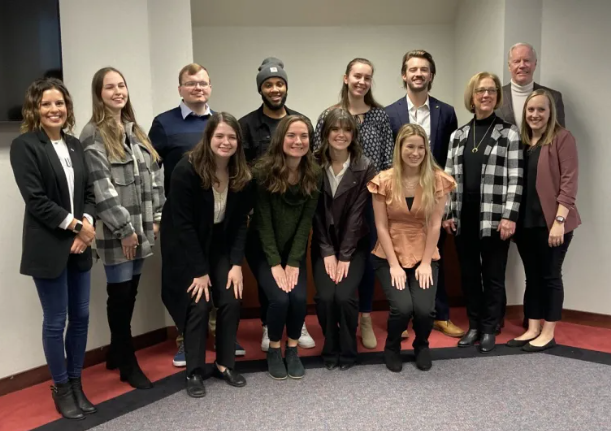 Washburn Leadership Students Partner with United Way to Award $10,000
 Annual Aleshire Grant allows students to learn philanthropy from the ground up, benefits nonprofits
Dec. 9, 2022, Topeka, Kan.— Washburn leadership students presented early education grants worth $10,000 to three Shawnee County nonprofits today.
Thanks to the generosity of two longtime United Way leadership donors, Joe and Janet Aleshire, United Way gets to partner with Washburn University on a unique experience to teach students about grant-making and philanthropy in their adopted community of Topeka and Shawnee County.
This year, the students awarded grants to Capper Foundation (which hosted the check presentations), Kansas Children's Discovery Center and Kansas Children's Service League.
The Aleshires provide the dollars, but students in Washburn's LE300 Leadership Institute class do the work. And it all benefits early childhood development.
Under the guidance of the Aleshires and United Way CEO Jessica Lehnherr, the students are responsible for writing a Request for Proposal to solicit grant applications from area agencies. Upon receiving applications, students are then responsible for reviewing and ranking each application and coming to consensus before making an investment recommendation to the United Way board.
This year's LE 300 students are:
Mia Albert
Junior political science major from Wichita
Kayla Beyer
Junior psychology major from Ogden
Cameron Billquist
Sophomore legal studies major from Leavenworth
Philip Canady
Senior business major from Topeka
Chloe Chaffin
Junior political science and secondary English education major from Olathe
Trinity Cooper
Senior marketing major from Wichita
Graycn Evans
Senior finance/marketing major from Manhattan
Abby Fette
Junior pre-med major from Kansas City
Ellynor George
Sophomore secondary education/math major from Topeka
Dyan Grospitch
Junior Sociology major from Topeka
Hannah Mumpower
Junior radiologic technology/medical imaging major from Maple Hill
Lily Thompson
Junior psychology major from Lawrence
Now in its second decade, the Aleshire Grant partnership continues to foster community leadership and quantifiable  learning outcomes.
Leadership Institute Director Lauren Edelman said, "The Leadership Institute's partnership with the United Way and with Joe and Janet Aleshire is such a unique and transformational opportunity for students to learn about philanthropy and service while they work to make a tangible difference in our community. As a result of this work, students not only grant real dollars to address a community need, but they learn how to be good stewards of donor dollars and to make smart investment decisions. I'm so proud of the work they did this semester and the growth they demonstrated through the process."
About United Way of Kaw Valley
In September 2022, United Way of Douglas County merged with United Way of Greater Topeka to form United Way of Kaw Valley (UWKV). UWKV serves as a grant maker, community convenor, volunteer organizer and strategic partner for the nonprofit sector in Shawnee, Douglas, Jackson and Jefferson counties in northeast Kansas. Donor dollars are invested locally and support a broad range of initiatives that benefit the whole family in education, financial stability and health, as well as racial equity and family supports/basic needs.